Syria negotiations 'doomed to fail', says ODFS Director
Wednesday, 27 January 2016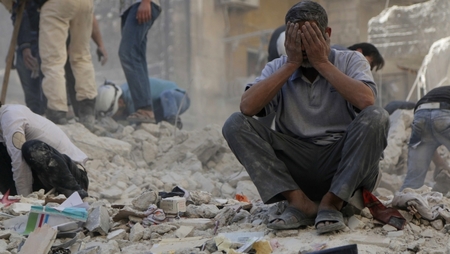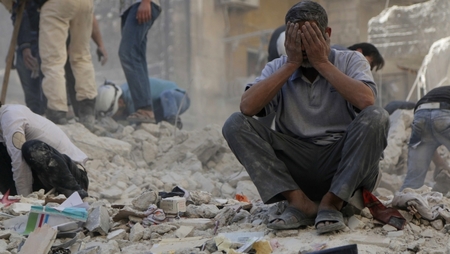 'Syrian opposition demands answers before joining talks'
REUTERS
Plans to hold the first negotiations to end the civil war in Syria for two years were in doubt on Wednesday after the opposition said it would not show up unless the United Nations responded to demands for a halt to attacks on civilian areas.
The Syrian government has already agreed to join the talks that U.N. envoy Staffan de Mistura hopes to convene in an indirect format in Geneva on Friday with the aim of ending the five-year-old war that has killed 250,000 people.
Washington urged Syrian opposition groups to attend.
"Factions of the opposition have an historic opportunity to go to Geneva and propose serious, practical ways to implement a ceasefire, humanitarian access and other confidence-building measures, and they should do so without preconditions," State Department spokesman Mark Toner said.
Preparations have been beset by difficulties, including a dispute over who should be invited to negotiate with President Bashar al-Assad's government as it claws back territory with help from Russia and Iran.
Kurds, who control a swathe of northern Syria, were not invited and predicted the talks would fail.
A Saudi-backed opposition council that groups armed and political opponents of Assad broke up a second day of meetings in Riyadh, saying it was waiting for a response from the United Nations to demands before it decided whether to attend.
While it has expressed support for a political solution and talks, the opposition High Negotiations Committee (HNC) says attacks on civilian areas must stop before any negotiations.
In a letter to U.N. Secretary General Ban Ki-moon, it also called for the lifting of sieges on blockaded areas among other steps outlined by the U.N. Security Council in a resolution passed last month.
"We are waiting for the response of de Mistura first, and then Secretary General Ban Ki-moon, which is the most important ... If it is positive maybe there will be an agreement to go," Asaad al-Zoubi, an HNC member, told Saudi TV channel Al Ikhbariya.
Diplomacy has so far failed to resolve a conflict that has forced millions from their homes, creating a refugee crisis in neighbouring states and Europe. With the war raging unabated, the latest diplomatic effort has been overshadowed by increased tension between Saudi Arabia and Iran.
ODFS Director Ribal Al-Assad expressed his dismay at the news.
"These proposed negotiations are an enormous disappointment and will only lead to failure," he said. "The parties invited to these talks have been selectively chosen and do not represent all the people of Syria. The entire process has been very exclusive and undemocratic.
"Also, it is completely unacceptable that violent, extremist Islamist groups have been invited to the talks. These people believe that anyone who does not share their twisted ideology is an infidel or apostate deserving of death.
"Islamic extremists will never commit to a secular, civil constitution. They have no respect for democracy, gender equality or human rights. Instead they plan on establishing an Islamic caliphate under sharia law.
"It is naive and dangerous to believe that these kinds of people can be true partners for dialogue. They must not be included in talks as they are fundamentally opposed to peace on any other terms but their own. Negotiation with them is pointless.
"It is outrageous that after five years of vicious war the people of Syria find themselves betrayed by the international community, and are having to choose between a dictatorship and Islamist groups who are no different from Islamic State and Al-Nusra and who share the same perverted ideology.
"Mr. Di Mistura should include all groups who genuinely believe in democracy and the equality of all citizens under the rule of law regardless of religion, sect, ethnic group or gender and who are willing to sign and commit to it. When he was appointed, he said he would talk to everyone, but this clearly has not been the case.
"The United Nations' job is not to stop the war by trying to please regional and international players. These talks are a transparent attempt by outside powers to find opportunities for their stooges to land future government positions, which would of course grant them the influence necessary to control Syria's destiny.
"Why hasn't Di Mistura invited all genuinely democratic and representative parties, such as the Kurds, who constitute an important part of Syria's national fabric, who have fought long and hard against the Islamic State and other Islamist groups, and whose democratic forces include women and control most of northern Syria? If they are not invited to the talks, it only provides an incentive for them to try to secede from Syria and create their own state.
"And why hasn't he invited the Syrian National Democratic Council and other democratic groups?
"Again, this is to please certain regional powers, the regime and the Islamists. But is that really what the United Nations stands here for? To pick and choose who can have a say in their future? How is that democratic?
"Furthermore, by inviting only the warring parties, these talks are almost encouraging peaceful parties to pick up arms and fight, as this seems to be the only way to gain a seat at the table and be part of their country's future.
"This is a sorry state of affairs. The United Nations should be doing its utmost to make sure talks include only those committed to a democratic future for Syria, and it must include all of them. A peaceful solution will not be achieved otherwise."
More news articles