Ribal Al-Assad condemns horrific video of French Jihadists dragging civilian corpses through the dirt
Thursday, 3 April 2014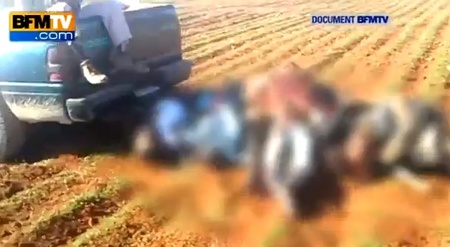 Gruesome video of European jihadists in Syria shocks France
FRANCE 24
Smiling at the wheel of a pickup truck, a bearded young man looks into the camera and gives the go-ahead, in French, for the camera to record the next scene. What follows are scenes of brutality that has shocked France.
The pickup starts to move, dragging along at least half-a-dozen corpses through the fields of northern Syria amid cries of "takfir" – an Arabic term used by one Muslim to denounce another Muslim as an unbeliever.
The jihadists in the pickup belong to the Islamic State in Iraq and Syria (ISIS) – one of the hardline Salafist groups that have edged out nationalist opposition fighters in the Syrian conflict against President Bashar al-Assad's forces.
The disturbing video was aired Thursday night in a documentary titled, "Le quotidien de jihadistes en Syrie" (The daily lives of jihadists in Syria) on the French BFM TV station and features the exploits of an ISIS brigade comprised of about 40 French and Belgian jihadists in Syria. The footage was filmed in February around the northern Syrian town of Azaz near the Turkish border and handed over to two French journalists by supporters of the nationalist Free Syrian Army (FSA).
One of the more disturbing aspects of the barbaric footage is the cavalier way the European jihadists move through the Syrian countryside, whooping, laughing and shouting in French as they drag the bodies of the slain civilians and fighters accused of supporting Assad.
Thursday's broadcast comes as European government and intelligence officials have voiced concern over the growing ranks of Western citizens joining jihadist groups in Syria.
The French Interior Ministry estimates that nearly 700 French citizens or residents have made their way into Syria since the conflict began. About 15% of them are women, who typically accompany their jihadist husbands, sometimes with their children.
In February, FRANCE 24 featured the exclusive testimony of a 27-year-old Frenchman who left his Paris home with his wife and her two young daughters [from a previous marriage] to join a jihadist group in Syria.
According to the London-based International Centre for the Study of Radicalisation, the current mobilisation of jihadists bound for Syria is more significant than every other instance of foreign fighter mobilisations since the Afghanistan war in the 1980s.
Responding to the video, Ribal Al-Assad, Director of ODFS said:
"I was appalled to watch the scenes unfold in this video; it shows just how brutal these Islamists are - they have absolutely no regard for the sanctity of life and will stop at nothing to achieve their aim of an Islamic Caliphate state in Syria.
They will mercilessly slaughter anyone who does not conform to their perverted view of Islam and must not be allowed to continue on their barbaric rampage through Syria.
This is also a crisis for the international community - these people will be returning to their home countries and their brutality will go with them. They are extremely dangerous individuals who pose a very real threat to innocent civilians.
It is time for the International Community to unite and stand up to these Islamist extremists, there is no place for their heinous ideology in the world today and we must learn our lesson from past terrorist atrocities.
More must be done to stop foreign citizens from travelling to Syria - failure to do so will spell disaster."
Related Links
More news articles