Ribal Al-Assad: 'Bringing Democracy and Freedom to Syria', the Legatum Institute, London
Thursday, 4 February 2010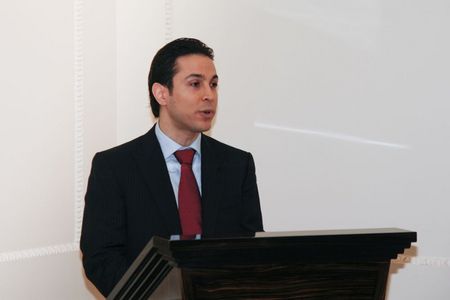 Thank you Dr Inboden. Distinguished guests, friends, ladies and gentleman. I'm honoured and privileged to be here today. I would like to thank the Legatum institute for inviting me. I am proud to be speaking at an organization, which promotes political and economic liberty and the advancement of human dignity globally.
You know I was speaking to few British friends recently and one of them said, there must be democracy in Syria because there is an election for president and he gets over 90 percent of the vote. To which I replied, but did you know there is only one candidate? Really said my friend, how could that be? Of course just an election doesn't constitute democracy and freedom and that's one of the reasons why I am here this evening.
The world has moved forward but my country, Syria, has not. It has failed to become the great nation that it should be. It's not the fault of the common man or woman. The current government, the regime, has failed to deliver democracy, freedom and prosperity. The regime is authoritarian and controlling. It oppresses its people, denies freedom of expression and association, violates human rights, and mismanages the economy.
Tyranny, corruption and poverty are widespread. There is no rule of law. The country operates under a highly restrictive state of emergency. The regime uses the pretext of the state of emergency, to suppress democracy and freedom. Human rights and democracy activists are often harassed, persecuted, arrested and imprisoned without due process. Even members of the media are subject to arbitary arrest and detention. There is no equality of opportunity and no social justice.
I believe that the time for real peaceful change has come. The Syrian people have a right to have democracy, liberty, equality and prosperity. That is why, to play my part in bringing these universal values to Syria, I have set up ODFS ( the Organisation for Democracy and Freedom in Syria). My organisation will research and analyse current events and policy in Syria and will provide information to policy and decision makers and all other interested parties in Britain and around the world.
I have faith that those, who like me, love their country, can change it, despite the many obstacles that exist. The hope of a better day for the Syrian people is a hope that I share and want to turn in to a reality. The people's hopes and dreams must be allowed to flourish. Syrians must be allowed to become masters of their destiny.
Of course things are not going to change over night but the process of change and political reform must start immediately. It must be peaceful and transitional, through engagement and dialogue with all groups who believe in democracy. Strong and properly functioning political parties, which are independent of the regime must be allowed to exist and flourish in Syria. This is absolutely key to developing an effective pluralist democracy. All political parties should be allowed to take part in free and fair elections.
Developing civil society in Syria is vital for its citizens to be genuinely engaged and empowered to participate in political processes. Therefore democratic political institutions must be strengthened and accessible to voters. Only then will ordinary Syrians be able to influence social, economic, and cultural policy, and make informed choices at the ballot box.
Syria needs a new democratic constitution, which guarantees the separation of powers, independence of the judiciary and which protects the rights of individuals, groups and minorities regardless of religion, ethnic group or sex. In a new pluralist Syria, citizens would have full rights under the rule of law.
In a democracy there would be an end to government control over civil society, unions, commerce and industry. The government and its ministers would be held to account through democratic checks and balances. Corruption in state institutions would be tackled through democratic accountability. A democratic Syria will help achieve peace, stability and security in Syria and the Middle East.
In Syria the regime owns and controls most of the media. It does not respect the right of its citizens to freedom of expression and access to information. There is direct official censorship of material deemed to be critical of the government. Journalists who question the government's policies often find themselves in prison. A few years ago a woman from a prominent Syrian family forwarded an email, which contained a caricature of a senior Syrian official. As a result she was arrested and detained. That is how bad things are.
The regime blocks many opposition websites, which are critical of its policies. It also blocks social networking sites such as Facebook and Youtube. This is totally unacceptable.
Unfortunately I have direct experience of how far the regime will go to block the flow of information. As some of you may be aware, last year my station ANN, which promotes democracy and freedom in the Middle East and North Africa, was blocked by the Syrian regime. Just like the Iranians are currently blocking the BBC's Persian service. As a result we had to change the satellite through which we broadcast. I will continue to campaign vigorously for a free media in Syria.
Syria has a poor human rights record. ODFS will be promoting human rights in Syria and highlighting cases of persecution. Using the pretext of a state of emergency the government systematically represses citizens from all parts of society. Security forces have sweeping powers of arrest and detention. They regularly arrest and detain individuals without just cause. Hundreds of people have been arrested for expressing dissent against the government and for promoting human rights. Many of them have been imprisoned incommunicado without trial. Detainees are often ill treated and tortured. Trials that do take place are in courts which do not respect international standards for fair trials. This has to change.
The Syrian Kurdish minority is repressed by the regime and faces discrimination and persecution. They are denied equal access to social and economic rights. This state of affairs cannot continue. The Syrian Kurds must be recognised as citizens of Syria with full rights.
The Syrian regime does not even keep its word after it has made agreements with other countries on human rights issues. Last year Germany repatriated political refugees to Syria after assurances from the regime that they would not be persecuted on their return. However many of these people were immediately arrested as soon as they returned to Syria. And if they were not arrested then they were arrested later in their villages. This state of affairs cannot go on.
Extremism and militancy in Syria is a problem for the region and the world. Dictatorship, along with poverty and ignorance has bred extremism, militancy and violence. This has helped to create bigger divisions in Syrian society. Having a civil democratic Syria is the best way to contain and defeat extremism because democracy would create necessary and legitimate channels for people to present their demands and grievances to the state.
Economic reform and development in Syria is much needed and long overdue. Unemployment and inflation rates remain high and productivity low. Corruption is rife in state institutions. Wealth is in the hands of the few at the top. Therefore political reform bringing transparency and accountability is a prerequisite to economic reform. Every Syrian deserves opportunity and prosperity. Syria must be transformed into a free market economy with the end of socialist authoritarian control. Innovation and enterprise are needed to create jobs for the masses. This coupled with new foreign investment would be a sound foundation for future economic growth.
It is imperative that the Middle East peace process is re-started. I believe that peace can be achieved through a two state solution. There must be a viable, independent and democratic state of Palestine. The Golan Heights must be returned to Syria in a land for peace deal. A democratic Syria would help achieve peace and security.
On Iran I want to say a lot of things. Firstly I believe that a pre-requisite to Syrian ties and friendship with Iran, should be Iran having honest and good intentions towards the Arab World. Currently Iran's policy throughout the region is one of control, expansionism and destablisation. I would like to pay tribute to the bravery and courage of those Iranian's who have started and joined the Green revolution. It shows that even when you have one of the most tyrannical and oppressive regimes in the world you can stand up to them.
The loss of life that has occurred is deeply regrettable. I sincerely hope such sacrifice is not in vain. The Green revolution must succeed because Iranians need to be free from their oppressive regime.
Democracy and freedom in Syria would be good for my country, for my people and of course for all of my family - yes all of my family. Thank you.
More news articles